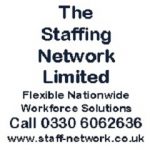 Website staffnetwork The Staffing Network
Logistics labour providers
The Staffing Network is a logistics labour provider across the UK.
Due to continued growth, our client has IMMEDIATE VACANCIES for LGV C+E DRIVERS in GOOSE GREEN, Wigan.
Chilled logistics, making RDC and long term storage deliveries across the UK. No Handball.
Curtainside trailers, using a new fleet of trucks.
AM or PM starts always available client operates 24/7.
Ongoing work and there are FULL TIME SHIFT PATTERNS AVAILABLE IF YOU WANT FULL TIME!!!!
Regular shifts are available:-
AM Starts – 05.00 – 08.00
PM Starts – 15.00 – 20.00
All applicants must hold:-
A current LGV C+E ( HGV Class 1 ) Driving licence
A current Driver CPC Card
A current Digital Tachograph Card
AM Pay £11.50 per hour PAYE, £13.50 LTD. Overtime £13.00 PAYE, £15.00 LTD
PM Pay £12.50 per hour PAYE, £14.50 LTD. Overtime £13.50 PAYE, £15.50 LTD
Average of 12 – 14 hrs per shift. Ongoing work
Average of between £600 and £1100 per week (LTD ) !
Call 01613595154 text "WIG" to 07488311353 or apply here https://www.staff-network.co.uk/register
All of our vacancies are available to UK residents or applicants currently working in the UK with UK National Insurance Number and UK residential address. All applicants must hold the relevent licences required in the vacancy. None EU applicants must have UK residence, valid UK work permit and UK National Insurance Number. We do not offer sponsership.
LGV C+E, HGV Class 1, Jobs, vacancy, HGV 1,