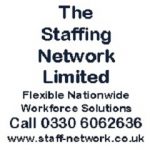 Website staffingnetwork The3 Staffing Network
Nationwide Logistics Labour Providers
The Staffing Network is a logistics labour provider across the UK.
Due to client growth, we have immediate vacancies for LGV C+E ( HGV Class 1 ) drivers to work from WIDNES, Merseyside.
Curtainside vehicles making RDC deliveries and collections. Ongoing work, Monday to Friday. Days or PM shifts available.
Pay is £12.75 per hr mornings, £13.50 PM.
Call 01613595154 or text "WID" to 07488311353 or apply below