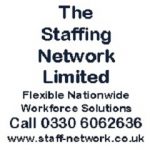 Website staffingnetwork The Staffing Network
The Staffing Network is a logistics labour provider across the UK.
Our client has immediate vacancies for LGV C+E  ( HGV 1 ) tanker drivers to deliver food ingredients from Corby.
Collection and delivery of powdered food ingredients into manufacturers.
Work is available on mornings or evenings, with the vehicles operating 6am or 6pm start times, 12 hour shifts.
Ongoing agency work.
Pay rate is £13.50 LTD days, £14.50 LTD Nights
Call 01283753003 or text "CT" to 07488311351 or apply below