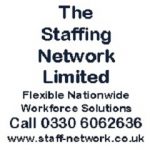 Website staffnetwork The Staffing Network
Nationwide logistics labour providers
The Staffing Network Limited is a logistics labour provider across the UK.
Due to client request we have immediate vacancies for LGV C+E ( HGV Class 1 ) Drivers to work from Droitwich.
Collection and delivery of food ingredients. Box and curtainside trailers. No Manual Handling, all palletised.
Mainly RDC and trunking work.
AM starts between 05.00 and 07.00 , PM starts between 15.00 and 19.00 to suit you.
Work is mainly Monday to Friday, there is also some weekend overtime available to if you require.
Pay Rates
AM £13.00 LTD, £11.60 PAYE, Sat £16 LTD, £14.25 PAYE Sun £19 LTD, PAYE £17.30
PM £15.00 LTD, £12.75 PAYE, Sat £18 LTD, £15.30 PAYE, Sun £21, PAYE £19.00
All applicants must hold a current LGV C+E driving licence, Digicard and DQC card.
Call 01384470871 or text "DROIT" to 07488311351 or apply online.