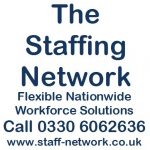 Website The Staffing Network
The Staffing Network is a logistics labour provider across the UK.
Trunking HGV 1  ( LGV C+E ) drivers required to work from Aston Birmingham.
RDC trailer drop and swap.
£22.00 per hour Mon – Fri
£25.00 Weekends
Ongoing work, new contract for a regular client.
Limited or PAYE welcome.
Call 01922211285 or apply www.staff-network.co.uk/register